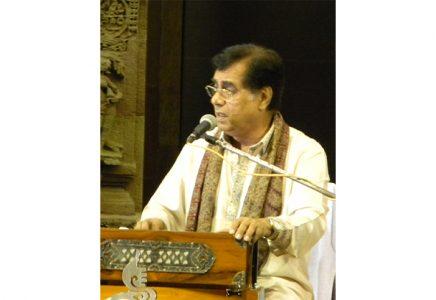 Jagjit Singh is known as the most successful ghazal singer of all time achieving both critical acclaim and commercial success and whose soulful voice has touched million of hearts.
Singer Jagjit Singh's voice has hypnotized millions in India around the world. His fans are crazy for his mesmerizing ghazals – one of the most widespread and popular poetic forms, especially across the Middle East and South Asia. Jagjit Singh had mastered the art of expressing pain and sadness through melodious beautifully written songs.
The journey of this man from Jagmohan to Jagjit was not an easy one. Jagmohan's father Amir Chand was born in a Hindu family but he had adopted Sikhism and was now called Sardar Amar Singh. His conditions were dire as he was poor and had to work throughout the day. However, he was dedicated to study in the night and got a government job where he was first posted in Bikaner in Rajasthan. One fine day when he was travelling from Bikaner to his hometown Sri Ganganagar, he met a beautiful Sikh girl named Bachchan Kaur on the train and once their conversation started it never ended as they both got married. They had 11 children, out of which only four survived of which Jagmohan was one of them born in Sri Ganganagar in 1941.
After India gained independence in 1947, it was a very difficult period for the nation as it was starting to stand on its own legs and every person was struggling for food and means of work. In such struggling times there was hardly any place for art forms like music. But as the story goes, amidst all this a promising young man ventured out from the streets of Sri Ganganagar in Rajasthan in northern India.
On one particular day, Jagmohan's father took him to his religious guru who predicted and advised that if Jagmohan would change his name then one day he would win over this whole world with some special skill. From that day on Jagmohan became Jagjit. There was no electricity in those times and Jagjit used to study under kerosene lamp after dusk though he was not very keen on studies. Jagjit had immense love and passion for singing from a very young age and the first song that he sang was while still studying in Khalsa school and later in 1955 he sang for big composers. He also used to sing Gurbani (religious hymns) in Gurudwaras – holy place of Sikhs from a young age.
Later Jagjit moved to Jalandhar in Punjab in northern India for higher studies where he completed his Bachelor of Science at DAV college. Throughout his college days he sang many songs and in 1962, he sang a song in front of Dr Rajendra Prasad, the first president of India, during college Annual day celebration. His father always wished that Jagjit would study harder and become an engineer or a bureaucratic office considered to be a highly respectable job in the government so to fulfill his father's wishes, Jagjit travelled to Kurukshetra in Haryana to do his Master of Arts in history.
During his post-graduation days Jagjit travelled to Shimla in Himachal Pradesh to sing for a particular occasion and accidently met Om Prakash who was a famous actor in the Indian film industry. Om Prakash was so impressed with Jagjit's singing that he immediately asked Jagjit to come to Mumbai, the home of the Indian film and music industry. Jagjit promptly agreed and moved to Mumbai where he initially survived by doing odd jobs, then started making some money by composing advertisement jingles and by doing live performance at wedding functions.
Unfortunately, this was not a very pleasant journey for Jagjit as he could not achieve anything and was left penniless to even survive in Mumbai and so he headed back home travelling hidden in a train lavatory. However, this experience did not kill Jagjit's spirit and in 1965 he was determined that he will spend his life with music and so he once again moved to Mumbai. One of Jagjit's closest friends named Haridaman Singh Bhogal arranged money for Jagjit to travel to Mumbai and would also keep sending money to help him survive in the big city. Jagjit did get monetary help from his generous friend but during his struggling days he faced many difficulties.
Jagjit eventually learned classical music from the famous singers of that time – Mohammed Rafi, K L Sehgal and Lata Mangeshkar. Later his interest in a professional career in music progressed further and he decided to attain format training in classical music from the proficient Ustad Jamal Khan and Pandit Chagan Lal Sharma ji. Interestingly during his struggling days in Mumbai, he even did a small acting gig in film director Subhash Ghai's movie 'Amar' as the main protagonist' friend.
Jagjit's family was totally unaware that that he was in Mumbai as he used to go home during his college vacation. When he did not visit home for a long duration, his father asked Jagjit's brother to seek information from Jagjit's friends about his whereabouts. Though one of his friends did inform Jagjit's brother that Jagjit had quit his studies and had moved to Mumbai but his brother chose to remain silent about this. After around one month, Jagjit himself wrote a letter to his family telling them the entire truth and that he had also stopped wearing his turban because he felt that the music industry may not accept a Sikh singer. His father was furious to know this and stopped talking to Jagjit from that day on.
During his stay in Mumbai, Jagjit got a chance to work with HMV company, a big music company of that era and his first EP (extended play) became very popular. He subsequently met Chitra Dutta, a Bengali when singing a duet advertisement jingle and surprisingly Chitra did not like Jagjit's voice at first. Chitra was married at the time and had a daughter however she got divorced in 1968 and Jagjit and Chitra got married in 1971. This was glorious year for Jagjit Singh and he and Chitra were termed as the 'Ghazal couple'. They were blessesed with a son soon after who they named Vivek.
In this very year Jagjit had a super hit music album named 'Super 7'. His most important and legendary album was 'The Unforgettables' using chorus and electronic instruments, an opportunity given to him by HMV after which he became a star overnight and this was really his first big achievement. 'The Unforgettables' was a high-selling album at a time when there was no marketplace for albums other than films. He received a cheque of INR 80,000 in 1977 which was a very huge amount back then. After seeing Jagjit achieve success his father started talking to him once again.
Jagjit's second album 'Birha Da Sultan' came out in 1978 and most of his songs were a success. Subsequently, Jagjit and Chitra released a total of sixteen albums. He became the first Indian musician to record a purely digital CD album 'Beyond Time' in 1987 recorded on foreign shores outside India, amidst this successful streak, Jagjit and Chitra suffered a devastating personal tragedy. Their son Vivek died in a road accident at a young age of 18 years. After this painful tragedy in 1990, Chitra and Jagjit both gave up singing.
Jagjit returned to singing in 1992 and gave his voice to many poets. He produced several albums with writer Gulzar and composed the tunes for a television drama 'Mirza Ghalib' written by Gulzar. Jagjit also lend his voice to 'Geeta Shloko' and 'Shree Ram Charit Manas' and such hymns when recited by Jagjit Singh gave a heavenly feeling to the listeners. Some of Jagjit's finest works came after he lost his son as this seemed to have an enriching effect on his heart. In India people were aware of classical music but the manner in which Jagjit's voice connects with the common man is amazing. Though he sang in such a soulful voice, he was a very friendly and jovial person. He loved cycling as it reminded him of this youth.
People of every age group admire not just Jagjit Singh's singing but also the soulful lyrics and ghazal compositions. Jagjit did beautiful poetry and paid homage to every songwriter in his own distinct style. He was always very supportive of his colleagues with whom he always had amicable relations. In 1998, he suffered a major heart attack after which the doctor suggested him to undergo bypass surgery for which he did not agree. He instead decided to visit his friend in Dehradun, Uttrakhand who was an ayurvedic specialist and Jagjit put full faith in his treatment. After one month he resumed his work.
Jagjit Singh is the only Indian singer-composer to have produced two albums for former Prime Minister of India Atal Bihari Vajpayee who is himself a poet – called Nayi Disha and Samvedna. In 2003, he received Padmabhushan, the third highest civilian honor in the country for his contribution to singing. In 2006, he received the Teachers' Lifetime Achievement Award. Unfortunately, another tragedy took place in 2009 when Jagjit and Chitra's daughter passed away causing them to drown in sadness once again.
In 2011, after turning 70 Jagjit decided to do a '70 concert' in which he presented a song in the memory of his son called 'Chitti Na Koi Sandes, Jaane Who Kaunsa Desh, Jahan Tum Chale Gaye' translated as 'no letter or message, don't know which is that place where you have gone'. In September 2011 Jagjit Singh suffered brain hemorrhage and after being in a coma for 18 days, he passed away on October 10, 2011. This man took ghazals to the common man and he received huge success as many of his songs are considered classics. He certainly is the most popular ghazal singer of all time. His songs 'Jhuki Jhuki Si Nazar' and 'Tum Jo Itna Muskra Rahe Ho' from the Hindi movie Arth expressed timeless ode to the feelings of love and passion and silent admiration. His songs like 'Hosh Walon Ko Kya Khabar Kya' and 'Hothon Se Chhu Lo Tum'expressed sadness, longing, pain of separation and one-sided love. Jagjit Singh has left behind a beautiful legacy of mesmerizing songs which shall be cherished by millions of listeners for a long time to come.
***