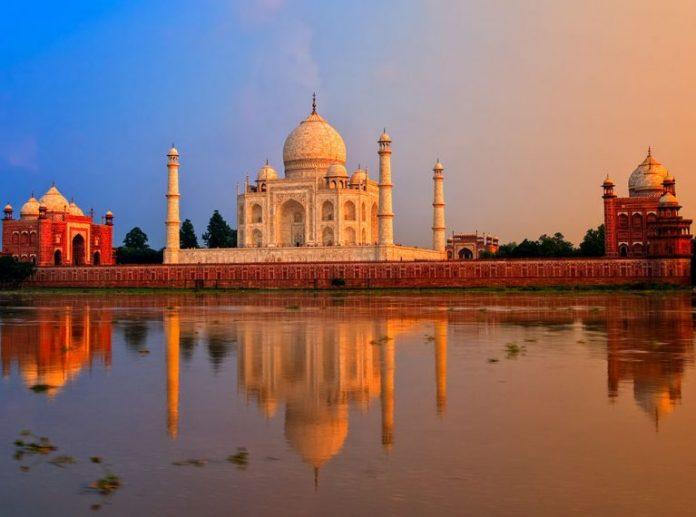 "Not a piece of architecture, as other buildings are, but the proud passions of an emperor's love wrought in living stones" – Sir Edwin Arnold
India has many incredible landmarks and monuments and paying a visit to them is a fantastic way to get acquainted with the country's rich history. If there one place or monument which is instantly recognized and synonymous with India's identity, it is the beautiful Taj Mahal. Located on the banks of river Yamuna in the northern Indian city of Agra, Uttar Pradesh, it is a symbol of beauty, undying immense love and pride. It is undoubtedly a great and most recognized Indian historical monument which attracts many people's mine from all over the world every year.
The phrase 'Taj Mahal' is the combination of 'Taj' meaning crown and 'Mahal' meaning palace (in Persian), literally translating to 'crown of the palace'. It was commissioned by fifth Mughal emperor Shah Jahan in 1632 during his reign in the Mughal empire in India circa 1628-1658 AD. He wanted to built this exotic and exquisite mausoleum in memory of his beautiful wife Mumtaz Mahal who was very lovable to him and who died in 1631. This mausoleum would house a tomb (a burial place) where she would be laid to rest. The architectural beauty and magnificence of Taj Mahal has registered it amongst one of the seven wonders of the world chosen in 2000 and 2007.
The construction Taj Mahal took 20,000 workers (masons, stonecutters, calligraphers and artisans) from all over India and Central Asia over a period of 20 years and a total expense of 32 million Indian rupees (the equivalent of over US $1 billion at the time). Shah Jahan was indeed an artistically inclined man, he rejected around hundreds of designs before approving what we see today. The main designer of Taj Mahal is believed to be Ustad Ahmed Lahori, a Persian architect who is also believed to have designed the famous Red Fort in New Delhi.
During that time, the transportation of construction material required up to 1000 elephants. Even in the 17th century the design of this beautiful monument was very robust for its time and it was slightly inclined outward to prevent it from getting destroyed from any natural calamities (storm, earthquake etc.) in the future.
The structure of Taj Mahal used ideas and style from difference architectural styles including India, Persian, Islamic and Turkish and its almost called as the "zenith" of Mughal architecture. The main mausoleum is made of White Marble, while the fortifying structure are made of Red Sandstone. Print photographs do not do justice to the magnanimity of Taj Mahal as it stands almost 561 feet tall as a centerpiece to 51 hectares of a beautiful complex. This extravagant complex around the central structure consists of a very decorative gateway, designer garden, a wonderful and efficient water system and a mosque.
The main central structure of Taj Mahal which is a dome structure is surrounded by four pillars (or minarets) on four corners and this symmetry in its architecture enhances its beauty. The exterior of the Taj Mahal is inlayed with intricate decoration like precious gemstones including opals, lapis, jade against the white background of the marble.
The Taj Mahal reflects the skylight from sun and the moon. At morning during sun rise it appears pinkish, during noon it appears clear white, during sun set in the evening it appears beautiful golden and in moonlight it appears striking silver. Amazing indeed. Since the monument was built for his wife, the changing colors – as the historians' state – represents mood of his wife (a woman). Unfortunately for Shah Jahan, he had very tragic last 8 years of his life which he had to spend in captivation in Agra Fort (situation around 2.7 km from the Taj Mahal) after he was arrested by his own son, Aurangzeb who was the next Mughal emperor.
It is believed that Shah Jahan spent his last years looking at the Taj Mahal from the fort while in captivity, remembering fondly his love for his beloved wife Mumtaz. After his death he was laid besides his wife in the tomb of Taj Mahal.
After fall of the Mughal empire and during the British rule in India, the gardens in the Taj Mahal complex were made more manicured English lawns as we see them today. Taj Mahal, a UNESCO Heritage site since 1983 and maintained by Archeological Survey of India, is today extremely popular with tourists from all around the world. It gets a footfall of almost 7 to 8 million visitors annually, with more than 0.8 million from outside India. It is ranked as the fifth most popular in the world and second in Asia by Traveler's magazine. Since the summer in India is not favorable, the best time to visit Taj Mahal is from October till March. It is closed on Fridays though open in the afternoon for Muslims to offers their prayers. To avoid damage to the structure, white paper shoes are given to tourists who want to stroll in the mausoleum.
From all historic evidences, stories and anecdotes, Taj Mahal is known as a true symbol of love and devotion of Shah Jahan to his wife Mumtaz. It is one of the most splendid pieces of architecture and is truly a symbol of a sad, heartbreaking but awe inspiring royal romance.