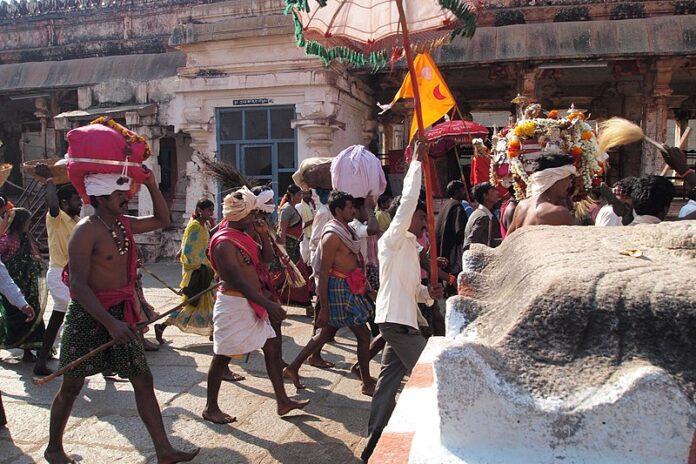 The Sanskrit word Yatra (यात्रा) simply means journey or travel. Traditionally, Yatra meant religious pilgrimage journeys to Char Dham (four abodes) to four pilgrimage sites of Badrinath (in North), Dwarka (in West), Puri (in East) and Rameswaram (in South) situated at four corners of Indian subcontinent that every Hindu should accomplish in his/her lifetime to help achieve moksha (salvation). In the olden times, when there were no modes of transport, people would undertake Char Dham Yatra (pilgrimage to four abodes) on foot and walk the length and breadth of the country fulfilling religious duty. Walking on foot for years traversing thousands of miles brought diverse Indians 'face-to-face' and wove them together emotionally and helped forge a common national identity that gave rise to the famous 'unity in diversity' idea of India.
Time changed, so did Kings and Emperors. What did not change at all is the basic instinct of lust of power and desire to rule over others. But, now, they needed to be responsible and accountable to the people and appear like the iconic Priyadarshi Ashok, so they got metamorphosised. Now, they are called politicians. Unlike kings, the new rulers have to seek love and blessings of the people at every fixed interval to continue ruling and to get anointed to the power afresh. And, there is competition, very stiff competition among the aspirants, at all levels, from rural to the national. In this competition, like any courtship, communicating effectively with the people is the key to a successful enticement. With advancements in science and technology, tools in the armoury of communication and perception management have increased manifold in the modern time, but past always lives in the sub-conscious minds of the people, ready to be appreciated by the beholder.
Came September 2022, Rahul Gandhi began his pilgrimage Yatra from Kanyakumari (not very far from the Southern dham Rameswaram) to Srinagari in Kashmir. He has already walked about 3,000 km and currently in UP, bracing extreme cold weather in his trademark T shirt and marching northwards along with thousands of supporters and galvanising masses en route. Waking this long distance has already hardened him to 'tempered steel' and certainly, he is gathering lot of storms on the way. It is difficult to predict whether he will succeed in being anointed in 2024 but he is certainly undisputed leader of his party now.
Prashant Kishor, a connoisseur of perception management and an acclaimed artist of political messaging, on the other hand, chose October 02, 2022, the birth anniversary of Mahatma Gandhi, to embark on his 3,500 km walk, from Bhitiharwa (close to Rampurva, the site of renunciation of Lord Buddha) in Champaran to villages in Bihar, the cradle of Indian religions and the citadel of Mauryan and Gupta politics. His stated aim is to learn about the basic problems of the people. This is where the local satrap, Nitish Kumar chips in with his Samadhan Yatra.
Nitish Kumar, the longest serving Chief Minister started his Samadhan Yatra (or Samaj Sudhar Yatra) yesterday on 5th January 2023 from the same place Champaran, to address peoples' problems and to spread awareness against social evils.
Not be left behind, Congress President Mallikarjun Kharge, began Bihar Chapter of Bharat Jodo Yatra yesterday on 5th January 2023 (coinciding with beginning of Nitish Kumar's Yatra) from Mandar Hill Temple (Mandargiri Parvat of Hindu and Jain mythology) in Banka district to Boddh Gaya (the most scared Buddhist site in the world).
The season of political Yatras has already set in. Many more are likely to come before 2024 election. May be, we shall soon see the Char Dham Yatra of BJP!
***