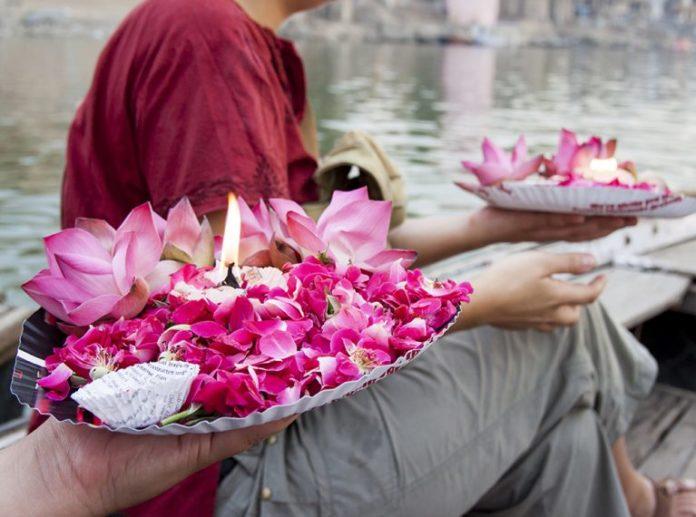 Love and respect are the foundations of ancestor worship particularly in Hinduism. It is believed that the dead have a continued existence and can provide guidance to thereby effecting the destiny of the living.
The ancient Hindu practise of ancestor worship over a period of 15 days observed once every year by Hindus is called the 'Pitri-Paksha' ('fortnight of the ancestors') during which ancestors are remembered, worshipped and seek their blessings.
Through this period of remembrance, Hindus throughout the world reflect upon the contributions and sacrifices made by their forefathers so we could live our present day lives better. Also, culture, traditions, values and the divine heritage set by them to make us flourish in our lives and be good individuals. Hindus invoke the presence of the souls which have passed away, they seek protection of the souls who have now departed and pray for the embodied souls to might peace and serenity.
This is based upon the deep-rooted concept of Vedic scriptures, which says that when an individual is born, he/she is born with three debts. First, a debt to God or the supreme power called 'Dev-rin. Second, a debt to the saints called 'Rishi-rin' and a third debt to one's own parents and ancestors called 'Pitri-rin'. These are debts on one's life but they are not labelled a liability as one might think. This is a way by which the scriptures instil an awareness of one's duties and responsibilities which one tends to overlook during one's mundane life.
The debt called 'Pitri-rin' towards one's parents and ancestors must be paid by an individual during his/her life. The strong belief is that our life, our existence including our family name and our legacy is a gift give to us by our parents and our forefathers. What parents do for their children when they raise them – giving them an education, feeding them, providing them all possible comforts in life – our grandparents have done the same duties for the parents which then made parents to be able to provide to children. Therefore, we are indebted to our grandparents who are to their parents and so on.
This debt is repaid by doing well in life, by bringing fame and glory to one's family and in turn one's ancestors. Our ancestors after they have passed away, they are still thinking of us as departed souls concerned for our well-being. Though they do not have any expectation, one can perform acts of charity in their names and remember them fondly as we are who we are because of them.
During this fortnight, people make small sacrifices with ancestors in their mind. They donate food to the hungry, pray to alleviate suffering, offer help to the needy, do something to protect the environment, or devote sometime at the community service. This act of ancestor worship is purely based on faith (called 'shraddha' in Hindi) and a spiritual connection and transcends beyond just being a Hindu ritual.
The annual ancestor worship is called 'Shraadh' during which one must perform actions to remember, acknowledge and keep up the pride of one's family lineage. If and ancestor has passed away now, then 'pind' or oblations must be offered by a son or an offspring with the aim to let the soul of the one passed away to receive salvation (or moksha) and rest in peace. This is performed in Gaya, Bihar on the banks of the river Falgu river.
The annual 15-day period of ancestor worship reminds us of our lineage and our duties towards it. Learned philosophers believe that the state of chaos and anxiety which we feel in both our inner and outer worlds, is deeply rooted at a faltering relationship with the ancestors. Thus, worshiping invokes them and in turn they continue to provide us with guidance, protection and encouragement. This experience provides an opportunity to reconnect emotionally and spiritually of the memory of our forebears even though we did not know much about their existence. This connection might be strongly resonating and we may feel their presence in protecting in ways which are not limited by physical existence.
***