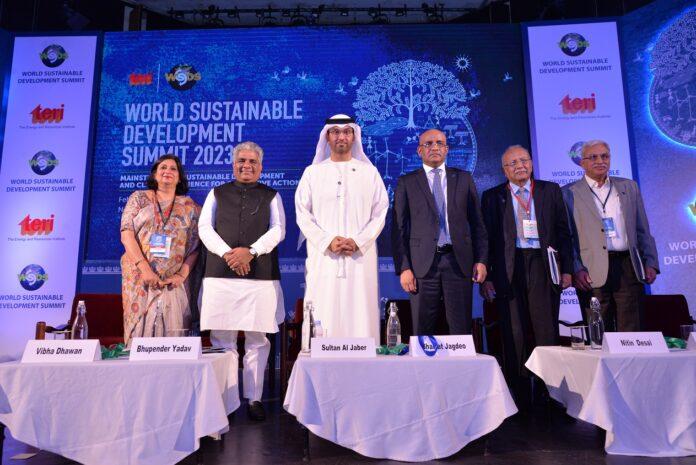 The Vice President of Guyana, the COP28-President designate, and the Union Minister for Environment, Forest and Climate inaugurated the 22nd edition of the World Sustainable Development Summit (WSDS) today on 22nd February 2023 in New Delhi.
The three-day Summit, from February 22-24, 2023, is being held on the theme of 'Mainstreaming Sustainable Development and Climate Resilience for Collective Action' and is hosted by The Energy and Resources Institute (TERI).
Emphasizing that environment is not just a global cause, but the personal and collective responsibility of every individual, PM Modi, in a message shared at the inaugural session noted that "the way forward is through collectiveness rather than selectiveness."
"Environment conservation is a commitment and not compulsion for India," observed the Prime Minister, while underscoring the transition towards renewable and alternate sources of energy, and the adoption of technology and innovation measures to find solutions to urban challenges. "We have adopted a multi-dimensional approach to chart a long-term roadmap for sustainable and environment friendly lifestyle," he added.
Dr Bharrat Jagdeo, Vice President, Guyana delivered the Inaugural Address. The Opening Address was given by Mr Bhupender Yadav, Union Environment Minister, while Dr Sultan Al Jaber, the COP28-President designate-UAE delivered the Keynote Address.
Through its Low Carbon Development Strategy 2030, Guyana has put in place a roadmap to energy transitions and a larger decarbonisation process. Being a country with one of the largest forest cover, Dr Jagdeo shared insights on Guyana's natured-centred approaches to sustainable development. He made a call to significantly focus on the principles of equity and justice at forums such as the G20 and the COPs. He pointed out that it is impossible for many developing countries to achieve Sustainable Development Goals (SDGs) without financing.
"The small countries not only need climate finance, but they also need a reform of the global financial system to achieve sustainable development," said Dr Jagdeo. He also pointed out that climate resilience and sustainable development are interlinked. "Most of the countries in the Caribbean are fiscally and debt stressed. Unless these issues are addressed now by some of the multilateral agencies, these countries will never be able to have a sustainable, medium-term economic framework, leaving much less to address the catastrophic damage of weather-related events," Dr Jagdeo added.
He underscored the criticality of balance in the discourse on sustainable development to find lasting solutions. "We need to reduce the production of fossil fuels, we need carbon capture, utilization and storage, and we need a mass transit into renewable energy. It is the combined action on all three fronts that will deliver lasting solutions. But often the debate is between the extremes, and sometimes it clouds the search for solutions. Balance is crucial," observed Dr Jagdeo.
In his Opening Address, Mr Bhupender Yadav, Union Minister for Environment, Forest and Climate Change, informed the audience that the second batch of cheetahs from South Africa have been successfully introduced in Kuno National Park in Madhya Pradesh on February 18. "The vision of correcting ecological wrong into ecological harmony is taking shape and is being reflected in the grassroots," said Mr Yadav.
The environment minister noted that combating climate change, biodiversity loss and land degradation transcend political considerations and is a shared global challenge. "India is contributing significantly to be a part of the solution," he said.
India's taking over the G20 Presidency has brought global attention to the discourse around sustainable development, he noted. "Living in harmony with nature has been traditionally in our ethos and the same has been reflected by the mantra LiFE or Lifestyle for Environment coined by our Prime Minister Narendra Modi. The mantra, which focus on nudging individual behaviour towards leading a sustainable lifestyle, has received attention and appreciation from world leaders and leading experts across the globe and has been included in the cover decisions of Sharm el-Sheikh Implementation Plan as well as COP27," said the Union Minister.
The COP28-President designate-UAE, Dr Sultan Al Jaber, in his Keynote Address noted that the theme of this edition of the WSDS — 'Mainstreaming Sustainable Development and Climate Resilience for Collective Action' – is "a call to action" and will be central to the agenda of the UAE COP.  "We will aim to unite all parties around inclusive and transformational progress. The goal of keeping 1.5 degree Celsius 'alive' (i.e., to keep alive the goal of limiting global warming to 1.5 degrees Celsius. Warming more than this could result in severe climate disruptions that could exacerbate hunger, conflict and drought worldwide. This implies reaching net zero carbon emissions globally around 2050) is just non-negotiable. It is also clear we cannot continue business-as-usual. We need a true, comprehensive paradigm shift in our approach to mitigation, adaptation, finance, and loss and damage," said Dr Al Jaber.
Observing that India is on its way to becoming the third largest economy, he asserted that India's sustainable development is critical not just for the country, but the world. He added that the UAE will explore opportunities of partnership with India in its high growth, low carbon pathway. "As India takes forward the presidency of G20, the UAE supports India's focus on transformative actions for cleaner, greener and bluer future with just and sustainable development for all," Dr Al Jaber said.
Mr Amitabh Kant, G20 Sherpa emphasised critical role of long-term lending in green transition. He said, absence of new instruments to facilitate long-term lending and bottlenecks to free trade are the key challenges in bringing down the cost of green hydrogen, enabling its production in size and scale and, thereby aiding the decarbonization of hard-to-abate sectors.
"If we have to decarbonise the world, the hard-to-abate sectors must be decarbonised. We need renewables to crack water, use electrolyser, and produce green hydrogen. India is climatically blessed and has top class entrepreneurship to be the least cost producer of green hydrogen, being a major exporter of green hydrogen, and the producer of electrolyser," said Mr Kant.
Observing that the G20 is critical to finding climate solutions, Mr Kant said, "It has the majority of the world's GDP, economic output, exports, emissions and historical emissions. It is critical to finding climate solutions." The G20 Sherpa pointed out that "new instruments like blended finance and, credit enhancement" are needed to enable a green transition. Unless the financial agencies are structured to finance for both Sustainable Development Goals (SDGs) and climate finance, it will not be possible to get long-term financing, he observed. "The international institutions which do a lot of direct lending have to become agencies for indirect financing for a long period," said Mr Kant. Production of green hydrogen in "size and scale" is not possible without free trade, he added.
Any Green Development Pact, Mr Kant, said "requires a major behavioural change in terms of the consumption pattern, in terms of community and individual action, long- term financing, restructuring of institutions to allow the finance to flow."
Earlier, in the day, speaking at the Opening Session of the Summit, Mr Jeffrey D Sachs, Professor, The Earth Institute at Columbia University, urged the developing world to be the leaders of sustainable development. "We need the whole world in the lead. We need India to be in the lead, we need China to be in the lead, we need Brazil to be in the lead," he said.
Underscoring the criticality of the present moment in geopolitics, Professor Sachs said, "What is remarkable about global politics right now is that we are amid fundamental change. We are at the end of a North Atlantic world; we are in the beginning of a true multilateral world.
The Energy and Resources Institute (TERI), based in India, is a non-governmental organisation (NGO) registered as a society in Delhi. It is a multi- dimensional research organization with capabilities in policy research, technology development, and implementation. An innovator and agent of change in the energy, environment, climate change and sustainability space, TERI has pioneered conversations and action in these areas for nearly five decades.
***