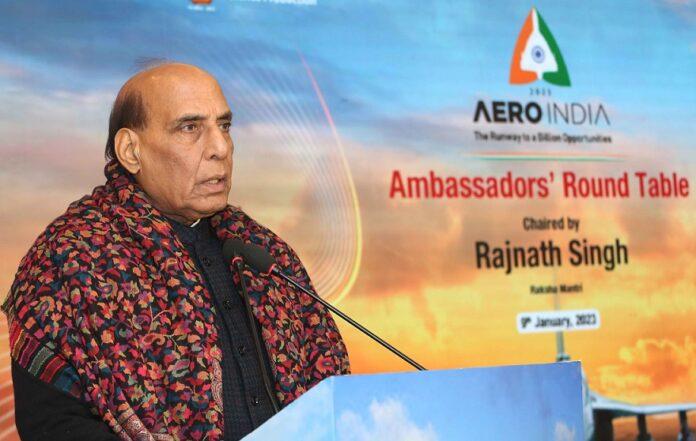 The defence minister chaired the reach out event, Ambassadors' Roundtable conference for Aero India 2023 in New Delhi. The event was organised by the department of defence production and was attended by the Representatives of over 80 countries. The minister invited the world to attend Asia's largest Aero show, to be held in Bengaluru between February 13-17. He said, "India has a robust defence manufacturing ecosystem; our aerospace & defence manufacturing sector is well prepared for future challenges. Our 'Make in India' efforts are not just meant for India alone, it's an open offer for joint partnerships in R&D and production. Our endeavour is to transcend buyer-seller relation to a co-development & co-production model".
The Ambassadors' Roundtable conference for the forthcoming aviation trade fair, Aero India 2023 was held in New Delhi on January 09, 2023. The reach-out event was organised by Department of Defence Production and was attended by Heads of Mission of over 80 countries. The defence minister, who chaired the conference urged the Heads of foreign missions to encourage their respective defence and aerospace companies to attend the global event.
Aero India-2023, the premier global aviation trade fair, which is 14th Aero show will be held in Bengaluru between February 13-17, 2023. The Aero India Shows provide an opportunity for the Indian aviation-defence industry, including the aerospace industry, to showcase its products, technologies and solutions to the national decision makers. This year's five-day show will witness a combination of major aerospace and defence trade exposition, along with aerial displays by the Indian Air Force and will be attended by major entrepreneurs and investors in the defence and aerospace industries, prominent defence think-tanks and defence-related bodies from across the world. The Show will provide a unique opportunity for exchange of information, ideas and new technological developments in the aviation industry.
The minister gave a broad overview of India's growing defence industrial capabilities, stating that efforts are being made towards enhancing manufacturing capabilities, particularly in the emerging areas of drones, cyber-tech, Artificial Intelligence, radars, etc. He added that a robust defence manufacturing ecosystem has been created which has led to the emergence of India as a leading defence exporter in recent years. The defence exports have grown by eight times in the last five years and now India is exporting to over 75 countries.
***