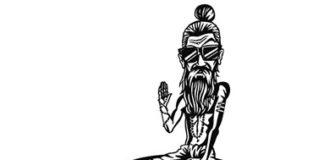 Call them the spiritual gurus or thugs, the fact remains that the babagiri in India is today mired in obnoxious controversy. There is a long list of 'Babas' who have brought bad names to the Indian religious gurus.
They are babas who hold tremendous clout, paradoxically more political than spiritual. But they shot into national limelight for making a heady cocktail of crime and sex.
The list of such babas is exhaustive starting with Asaram, Ram Rahim, Swami Nithyananda, Guru Ram Pal and Narayan Sai.
The latest entrant to the series is the BJP leader and former union minister, Chinmayanand, accused of raping and blackmailing a 23-year-old law student. Despite the formidable political and social clout that Swami Chinmayanand enjoyed, the law did take its own course and baba was finally arrested under rape charges and remanded to 14-days judicial custody on September 20.
Earlier in the week, the woman had recorded her statement in the court of Chief Judicial Magistrate detailing her allegations of rape and blackmailing by the baba. Soon after the news of 'Baba likely to booked under rape charges' flashed, Chinmayanand fell sick. He was seen in photos receiving medical treatment night after he complained of "uneasiness and weakness".
In photos released by his aides, Chinmayanand was seen lying on a divan at his home, Divya Dham, in Shahjahanpur in Uttar Pradesh, hooked to medical apparatus. The medical team told reporters Chinmayanand had been suffering from diarrhea. "He is also diabetic and this led to weakness. We have given him necessary medication and advised him complete rest," ML Agarwal, the doctor leading the team reportedly said.
This happened hours after the 23-year-old woman, a student at a law college run by Chinmayanand , went to a court protected by over 50 police personnel and recorded her statement before the chief judicial magistrate.
After the statement, it became apparent that the Uttar Pradesh police would slap rape charges on Chinmayanand, something which they were shying away from so far despite the woman filing a complaint with the Delhi Police and even making a statement before the Supreme Court.
The woman has alleged that Chinmayanand sexually exploited her for a year after helping her with admission into his college. He allegedly filmed her taking a bath and blackmailed her with the video and raped her. The woman says she was raped repeatedly by the politician, who runs several ashrams and institutions. She was allegedly brought to his room at gunpoint and was even forced to give Chinmayanand massages.
The woman claimed: "She decided to gather evidence against him and filmed him with a camera in her spectacles." The case came to light after the accuser went missing went missing on August 24 after putting up a Facebook post without naming Chinmayanand.
The Supreme Court heard her allegations and ordered a Special Investigation Team to inquire into them. The team questioned the woman, visited her hostel room and later questioned Chinmayanand for seven hours last week, but has yet to add rape charges against him; at present, he only faces charges of kidnapping and intimidation. He had in turn filed an extortion case but against unknown people. No arrest has been made in the extortion case filed by the politician.
***
Author: Dinesh Kumar (Author is a Senior Journalist )

The views and opinions expressed on this website are solely those of the author(s) and other contributor(s), if any.